Ad blocker interference detected!
Wikia is a free-to-use site that makes money from advertising. We have a modified experience for viewers using ad blockers

Wikia is not accessible if you've made further modifications. Remove the custom ad blocker rule(s) and the page will load as expected.
Shiroi Fūkei
(白い風景)
Original Soundtrack Information

Lyrics

Ren Yamashina

Music

Hamada Tomoyuki

Arrangement

Shin'ichi Yūki

Performed By

ARTERY VEIN
"Shiroi Fūkei" (白い風景, Shiroi Fūkei?, lit. "White Scenery") is an insert song in Corpse Party: Tortured Souls OVA performed by ARTERY VEIN.
This song and the instrumental version, as well as "ARTERY off vocal" and "VEIN off vocal" are featured on an album Corpse Party: Tortured Souls SPECIAL VOCAL COLLECTION (FPBD-0263).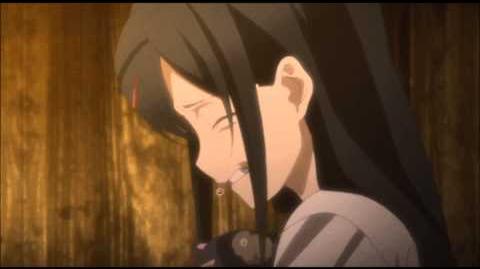 Japanese
Romanization
English Translation

こんなに冷たい月を 見たことがあるだろうか

凍えそうなほど遠い 哀しみの夜空に

konnani tsumetai tsuki o mita koto ga aru darou ka

kogoesōna hodo tōi kanashimi no yozora ni

I wonder if I have seen such a cold moon before

Seemingly frozen afar in the sorrowful night sky

夢ならいい 何度願った?

現実の向こう側に 答えはないのに

yume nara ii nando negatta?

genjitsu no mukō gawa ni kotae wa nai noni

How many times I wished if only this is just a dream?

The answer does not exist even in the other realm of reality

ゆっくりと 舞い落ちる 思い出が痛みを

永遠に 重ねてく 拒むことできずに

まるで降り続いた 白い風景

yukkuri to maiochiru omoide ga itami o

eien ni kasaneteku kobamu koto dekizu ni

marude furitsuzuita shiroi fūkei

Slowly falling down and fluttering, these memories are hurting me

They keep piling up for eternity, I'm unable to refuse them...

...as if they were a falling white scenery

昨夜感じたぬくもり 遠い過去の記憶さえ

今は何も映さない 置き去りにしたまま 

yūbe kanjita nukumori tōi kako no kioku sae

ima wa nani mo utsusanai okisari ni shita mama

Last night, I felt the warmth of memories from distant past

Now nothing is emitted no more, it was cast away and deserted

この涙が 君の笑顔に 届くことは

もう2度とないことを知った

kono namida ga kimi no egao ni todoku koto wa

mō nido to nai koto o shitta

These tears that reach for your smile...

...knew that there will never be a second time

儚くて 脆すぎて 触れることできずに

こんなにも 悔やんでも 時間は戻せないから

やがて流れ去った 遠い旋律 

hakanakute morosugite fureru koto dekizu ni

konnani mo kuyan demo toki wa modosenai kara

yagate nagaresatta tōi senritsu

The ephemeral, tender-hearted touch has passed away, I cannot feel it anymore

How mournful, but time cannot be wound back, so...

...it eventually gushed out, the faraway melody

ゆっくりと 舞い落ちる 思い出が痛みを

永遠に 重ねてく 拒むことできずに

まるで降り続いた 白い風景

yukkuri to maiochiru omoide ga itami o

eien ni kasaneteku kobamu koto dekizu ni

marude furitsuzuita shiroi fūkei

Slowly falling down and fluttering, these memories are hurting me

They keep piling up for eternity, I'm unable to refuse them...

...as if they were a falling white scenery