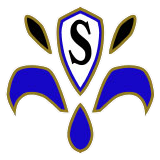 Seisei Academy for Girls
(

聖清女子学院

Seisei Joshigakuin, lit. "Saint Pure Girls' Academy")
is an all-girls school from which you can collect the students'
name tags
in
Corpse Party (PC, PSP/iOS, 3DS).
School Emblem
The all-girls school's educational philosophy is "purity, modesty and intelligence." For this reason its emblem is the lily, a symbol for "purity."
Members
Faculty
Corpse Party (PC)
Hakuryuu Kuroyanagi
Kyuu Nishimura
Mamori Tekuno
Togari Mita
Corpse Party (PSP/iOS, 3DS)
Kazunari Takayanagi (タカヤナーギ博士 Takayanāgi-hakase, lit. Dr. Takayanāgi) (Class II-3)
Tohru Fujimoto (藤本徹 Fujimoto Tōru) (Class II-3)
Tomoyuki Hamada (濱田智之 Hamada Tomoyuki) (Class II-3)
Yasuji Morita (森田恭司 Morita Yasuji) (Class II-3)
Students
Asuka Kato (加東あすか Katō Asuka) (Class I-2)
Ayana Misono (御園彩菜 Misono Ayana) (Class II-3)
Koito Fujiwara (藤原恋都 Fujiwara Koito) (Class I-2)
Ryoko Fujiwara (藤原涼子 Fujiwara Ryōko) (Class II-3)
Sasha Shinonome (東雲沙紗 Shinonome Sasha) (Class I-2)
Yuzuha Mikami (三上ゆずは Mikami Yuzuha) (Class I-2)
Trivia
Seisei Academy for Girls's name tags stand out from others due to its number of teachers and staff, a characteristic shared only with St. Maryanne University High School.
Kazunari Takayanagi is named after Dr. Takayanāgi, the publicist for MAGES and 5pb. Games. Even his trademark smock and glasses are mentioned in his cause of death, "A popular top of a teacher wearing a suit and spectacles complemented by a gentleman's cane."
Tomoyuki Hamada is named after the music producer for 5pb. Games.
The names of the faculty members are different in Corpse Party (PC) due to them being named after members from 5pb. Games and MAGES.
Ad blocker interference detected!
Wikia is a free-to-use site that makes money from advertising. We have a modified experience for viewers using ad blockers

Wikia is not accessible if you've made further modifications. Remove the custom ad blocker rule(s) and the page will load as expected.