Ad blocker interference detected!
Wikia is a free-to-use site that makes money from advertising. We have a modified experience for viewers using ad blockers

Wikia is not accessible if you've made further modifications. Remove the custom ad blocker rule(s) and the page will load as expected.
Magi-Cu 4 Koma: Corpse Party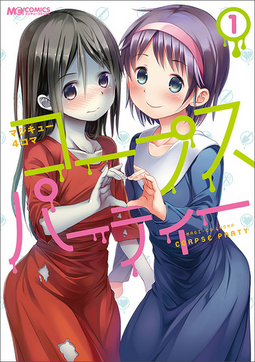 Manga Information

Japanese Title

マジキュー4コマ コープスパーティー

Genre

Comedy, Ecchi, Horror, Mystery, Psychological, Romantic Comedy, School, Shōnen, Supernatural

Illustrated By

Chi, Dry Mousse, Haruka Nakata, Kōsetsu, Kō Okada, Māya Akiho, Miss 01, Muiko Ikuhashi, Nodokuroame, Osomatsu, Roku, Sasami Tami, Seppaku, Shioko, Taka, Tarabagani, Toriniku, and Wakaba Shimada

Published By

Enterbrain

Demographic

Shōnen

Label

Magical Cute Comics

Original Run

March 2013

Volumes

1 (Incomplete)
Magi-Cu 4-Koma: Corpse Party (マジキュー4コマ コープスパーティー, Maji-Kyū Yonkoma: Kōpusu Pātī?, lit. "Magical-Cute 4 Cell Manga: Corpse Party") is a Japanese manga from the Magical Cute series. It features a collection of romantic comedy-themed four-paneled comic strips involving the cast of characters from the Corpse Party series.
The cover is illustrated by Kō Okada. It features comics by Kō Okada, Tarabagani, Toriniku, Seppaku, Muiko Ikuhashi, Kōsetsu, Taka, Sasami Tami, Osomatsu, Roku, Wakaba Shimada, Shioko, Chi, Haruka Nakata, Miss 01, Māya Akiho, Nodokuroame, and Dry Mousse. It is published by Enterbrain.
So far, only one volume has been released on March 25, 2013.
Volume List
Volume 1
Manga Title
Cover
Release Date
ISBN
Magi-Cu 4 Koma: Corpse Party 1
マジキュー4コマ コープスパーティー 1
March 25, 2013
ISBN 978-4-04728-863-8
External Links