Ad blocker interference detected!
Wikia is a free-to-use site that makes money from advertising. We have a modified experience for viewers using ad blockers

Wikia is not accessible if you've made further modifications. Remove the custom ad blocker rule(s) and the page will load as expected.
Hanabi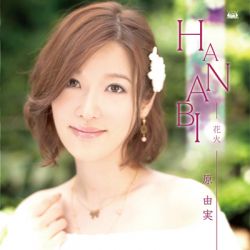 Original Soundtrack Information

Lyrics

RUCCA

Music

Tomoyuki Hamada

Arrangement

Yoichi Sakai

Performed By

Yumi Hara, Asami Imai
"HANABI" (Hanabi, lit. Fireworks) is the ending theme of Corpse Party -THE ANTHOLOGY- Sachiko's Game of Love ♥ Hysteric Birthday 2U performed by Yumi Hara, featuring Asami Imai.
This song and the instrumental version are featured as tracks on the single, "HANABI" (Hanabi, lit. Fireworks) (SVWC-7881), by Yumi Hara and Asami Imai. It is also featured on the album, "Place of My Life" (FVCG-1283) along with a solo version of the song performed by Yumi Hara.
Lyrics
Japanese
Romanization
English Translation

誰もいない 線路道へ [しずかに]

寝転がって 明日を聴いた

dare mo inai senro michi e [shizuka ni]

nekorogatte asu o kiita

There is nobody along the road line [into the silence]

Just lie down and listen to tomorrow

茜色の約束は 過ぎ去る季節のなか [やさしく]

また逢えるその日を 信じては 何度も甦るよ ほら

akaneiro no yakusoku wa sugisaru kisetsu no naka [yasashiku]

mata aeru sono hi o shinjite wa nando mo yomigaeru yo hora

The madder red promise is the passing of middle seasons [gently]

I believe we meet again on that day no matter how many times we were resurrected, hey!

こころの夜空 [あの夏] 消えてく花火 [忘れない]

きらきら咲き 君描くけど

いつかは [わかるよ] ぼくら 大人になって [逢えると]

夢花火のよう 刹那さえ 咲かせるよ

kokoro no yozora [ano natsu] kieteku hanabi [wasurenai]

kirakira saki kimi egaku kedo

itsuka wa [wakaru yo] bokura otona ni natte [aeru to]

yume hanabi no yō setsuna sae sakaseru yo

The night sky of my heart [that summer], those vanished fireworks [don't forget them]

Sparkling ahead, they paint you

Sometime [I know] we will grow into adults [and meet again]

These fireworks of dreams only bloom this time!

名前もない 飛行機雲 [流れて]

ただ追い掛け 君を呼んだ

namae mo nai hikōkigumo [nagarete]

tada oikake kimi o yon da

Your name vaporizes into nothing [flowing]

Chasing after you, I call you out

"今日"というたからものに あの頃 気付けてたら [やさしく]

それぞれの未来を この胸に 
抱きしめ笑えたかな まだ

"kyō" to iu takaramono ni ano koro kitsuketetara [yasashiku]

sorezore no mirai o kono mune ni dakishime waraeta kana mada

"Today" is called a treasure if you keep that time safe [gently]

I wonder about holding the future of each of us close to our chests and smile still

旅立つ君へ [遠くへ] "ありがとう" ずっと [さようなら]

今言の葉を 唄にしたなら

「儚いほうが [切なく] 綺麗だ」なんて [輝く]

ねえ云わないで 花火へと 手を伸ばそう

tabidatsu kimi e [tōku e] "arigatō" zutto [sayōnara]

ima kotonoha o uta ni shita nara

「hakanai hō ga [setsunaku] kirei da」nante [kagayaku]

nē iwanai de hanabi e to te o nobasou

I begin a trip towards you [far away]; "Thank you" for everything [and goodbye]

...as if turning present poems into songs

These fleeting thing [painful] are gorgeous [sparking]

Come on, don't say that, raise your arms toward the fireworks!

こころの夜空 [あの夏] 消えてく花火 [忘れない]

きらきら咲き 君描くけど

いつかは [わかるよ] ぼくら 大人になって [逢えると]

夢花火のよう 刹那さえ 咲かせるよ

kokoro no yozora [ano natsu] kie te ku hanabi [wasurenai]

kirakira saki kimi egaku kedo

itsuka wa [wakaru yo] bokura otona ni natte [aeru to]

yume hanabi no yō setsuna sae sakaseru yo

The night sky of my heart [that summer], those vanished fireworks [don't forget them]

Sparkling ahead, they paint you

Sometime [I know] we will grow into adults [and meet again]

These fireworks of dreams only bloom this time!

今年の夏も [あれから] きれいな花火 [あのまま]

ひらひら舞い 君を待つように

夢見し季節 [あの夏] ぼくらのままで [忘れない]

花火のよう 打ち上がれ 
今 空へ

kotoshi no natsu mo [are kara] kirei na hanabi [anomama]

hirahira mai kimi o matsu yō ni

yume miji kisetsu [ano natsu] bokura no mama de [wasurenai]

hanabi no yō uchiagare ima sora e

Even in summer of this year [and afterwards], the fireworks are beautiful [just like that]

...fluttering and dancing, as if they're waiting for you

In this dreamy season [that summer], we are still the same [don't forget them]

The fireworks shoot and burst into the present sky