Ad blocker interference detected!
Wikia is a free-to-use site that makes money from advertising. We have a modified experience for viewers using ad blockers

Wikia is not accessible if you've made further modifications. Remove the custom ad blocker rule(s) and the page will load as expected.
Crimson Sign
Original Soundtrack Information

Lyrics

Aki Misawa

Music

onoken

Arrangement

onoken

Performed By

Noriko Mitose
"Crimson Sign" is the ending theme of Corpse Party BloodCovered performed by Noriko Mitose.
The song is featured as a track in the album Centifolia ~Noriko Mitose Art Works Best~". The short version of the song is also featured in Corpse Party BloodCovered: Sound Collection Vol.2 and on the Corpse Party BloodCovered: Drama CD Deluxe Edition.
Videos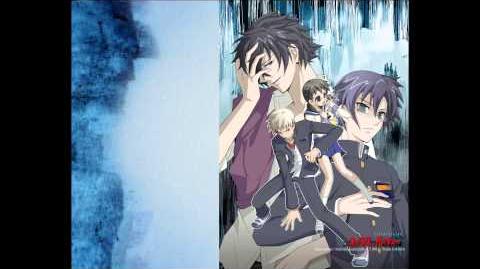 Lyrics
Japanese
Romanization
English Translation

置き去られたままの 朽ちた時間を抱いてささやく声

吐息飲む音さえ遠く 滲んで消える

okisarareta mama no kuchita jikan o daite sasayaku koe

toiki nomu oto sae tōku nijin de kieru

The whispering voice that embraces the deserted, rotten time

The sound of swallowing sighs vanishes by fading into the far

明けない夜 ほんの僅かな光さえ

許されずに 塗りつぶされていった

akenai yoru honno wazuka na hikari sae

yurusarezu ni nuritsubusarete itta

The break of dawn, even just a drop of light,

was being painted out without permission

立ちすくみ動けない足元

濁りきった紅に染まる影

あえぎ叫ぶ声はどこにも届かない

早く、早く ここを跡形もなく消して

帰る場所求め さまよい続ける

tachisukumi ugokenai ashimoto

nigorikitta kurenai ni somaru kage

aegi sakebu koe wa doko ni mo todokanai

hayaku, hayaku koko o atokata mo naku keshite

kaeru basho motome samayoitsuzukeru

Petrified I am, these feet rooted to the spot

The shadows are tinted with unclouded crimson

The sound of pants and screams doesn't reach anywhere

Quick, quick, erase completely every trace of this place

Continue wandering, demanding a place to call home

捨て去られたままの 朽ちた亡骸抱いて笑う声

ざわつく鼓動ごと 耳鳴りが包んでゆく

sutesarareta mama no kuchita nakigara daite warau koe

zawatsuku kodō goto miminari ga tsutsun de yuku

The laughing voice that embraced the rotten, abandoned corpses

Each wavering noise buzzing in the ears goes enveloping me

震える指 開く扉の向こうには<

赤い闇が どこまでも続いていた

furueru yubi hiraku tobira no mukō ni wa

akai yami ga doko made mo tsuzuite ita

Trembling fingers that open the door into the other side

were leading to reddish darkness everywhere

望み無くし 長い髪に捕われたなら

砕け散った骨片に埋もれ

やがて腐り落ちてゆくのか

nozomi nakushi nagai kami ni torawareta nara

kudake chitta koppen ni uzumore

yagate kusariochite yuku no ka

If there's no hope and I'm confined by these long hair,

then bury me to shattered bone fragments

Will I decompose and rot soon?

目隠しの隙間から覗いた

歪みきった笑い顔 崩れてく

夢が覚めた夢は冷たく横たわり

赤く、紅く溢れ 止まらない

mekakushi no sukima kara nozoita

yugamikitta warai gao kuzureteku

yume ga sameta yume wa tsumetaku yokotawari

akaku, akaku afure tomaranai

Through the gap of the blindfold I peeped

A twisted laughing face was cracking up

This dream is a waking dream; I'm lying down in chills

The red, overflowing red won't stop

立ちすくみ動けない足元

濁りきった紅に染まる影

あえぎ叫ぶ声はどこにも届かない

どうか、どうか ここを跡形もなく消して

還る場所求め さまよい続ける

tachisukumi ugokenai ashimoto

nigorikitta kurenai ni somaru kage

aegi sakebu koe wa doko ni mo todokanai

dōka, dōka koko o atokata mo naku keshite

kaeru basho motome samayoitsuzukeru

Petrified I am, these feet rooted to the spot

The shadows are tinted with unclouded crimson

The sound of pants and screams doesn't reach anywhere

Somehow, someway, erase completely every trace of this place

Continue wandering, demanding a place to call home