For the PlayStation Vita video game, see Corpse Party: Blood Drive
Bessatsu Corpse Party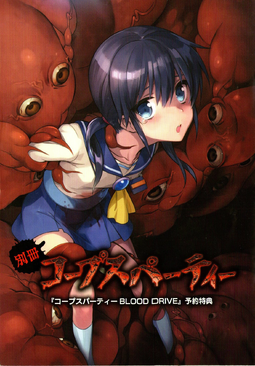 Manga Information

Japanese Title

別冊 コープスパーティー

Genre

Drama, Horror, Mystery, Psychological, School, Supernatural, Tragedy

Written By

Sugiura Aono

Illustrated By

Mika Orie

Published By

Media Factory

Original Run

July 24, 2014

Volumes

1
Bessatsu Corpse Party (別冊コープスパーティー , Bessatsu Kōpusu Pātī?, lit. Corpse Party Extra) is a booklet containing a manga chapter written by Sugiura Aono and illustrated by Mika Orie.
This booklet is a pre-order bonus of Japanese Corpse Party: BLOOD DRIVE limited edition. It only consists of one chapter, as well as a Q&A with the creator of the Corpse Party series, Makoto Kedouin, and Yuuya Kizami's voice actor, Tomokazu Sugita.
After Ayumi Shinozaki's failed attempt to resurrect her friends, she was hospitalized for her major injury. A mysterious woman appears and claims that she is an acquaintance of Ayumi's older sister. The woman informs Ayumi that her sister's last wish is for Ayumi to retrieve the Book of Shadows. Meanwhile, the curse of Heavenly Host Elementary School slowly grows...
Characters
Edit
Volume List
Edit
Volume List
Vol.
Manga Title
Cover
Release Date
ISBN
1
English: Bessatsu Corpse Party
Japanese: 別冊コープスパーティー
Hepburn: Bessatsu Kōpusu Pātī
July 24, 2014
ISBN
Table Of Contents
Prologue (前日譚 Zenjitsutan)
Ad blocker interference detected!
Wikia is a free-to-use site that makes money from advertising. We have a modified experience for viewers using ad blockers

Wikia is not accessible if you've made further modifications. Remove the custom ad blocker rule(s) and the page will load as expected.