Ad blocker interference detected!
Wikia is a free-to-use site that makes money from advertising. We have a modified experience for viewers using ad blockers

Wikia is not accessible if you've made further modifications. Remove the custom ad blocker rule(s) and the page will load as expected.
BABYLON ~before the daybreak
Original Soundtrack Information

Lyrics

Yuriko Mori

Music

Hamada Tomoyuki

Arrangement

Shun Itō

Performed By

Asami Imai
"BABYLON ~before the daybreak" is theme song of Corpse Party (Live Action Movie) performed by Asami Imai.
This song and the instrumental version are featured as tracks on the single, "BABYLON ~before the daybreak" (FVCG-1346), by Asami Imai. It is also featured on her sixth studio album, "Words of GRACE".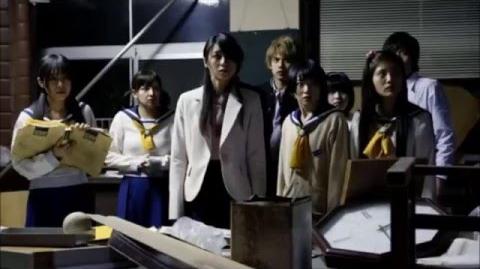 Japanese
Romanization
English Translation

終焉(おわり)のはじまりの日 それでも果実は実り

朝陽は満ちるでしょう 地上の罪のほとりで

owari no hajimari no hi soredemo kajitsu wa minori

asahi wa michiru deshou chijō no tsumi no hotori de

The beginning day of the end and yet, the fruits have ripened

The morning sun perhaps will rise near the sins of the earth

慟哭と共に生まれた 迷える少年たち どうか

dōkoku to tomo ni umareta mayoeru shōnen-tachi dōka

These lost boys were born lamenting, so please...

生まれ変われ 堕天使たち 想い出して 目には見えぬ

羽根があった遠い日 遥かな淡い記憶

絶望より 強いものは たったひとつ 希望と

知るために君は生まれた 堕落したこの世界に

umarekaware datenshi-tachi omoidashite me ni wa mienu

hane ga atta tōi hi harukana awai kioku

zetsubō yori tsuyoi mono wa tatta hitotsu kibō to

shiru tame ni kimi wa umareta darakushita kono sekai ni

be reborn, fallen angels; remember the bygone days

when you had your invisible wings, those faraway, faint memories

Only one thing is stronger than despair, and that is hope

For the sake of learning this, you were born into this corrupted world

幾度嵐が来ても 地上は浄められない

ikutabi arashi ga kitemo chijō wa kiyomerarenai

It does not matter how many times storms come; the earth cannot be purified

天国に一番遠い その胸に扉がある だから

tengoku ni ichiban tōi sono mune ni tobira ga aru dakara

It is the furthest from Heaven; a door is in your heart, therefore...

生まれ変われ 天使たちへ 鎖を解け 言い伝えを

破り捨てて 飛び立て 生きとし生けるものに

憎しみより 強い力 それは愛の力と

知らしめて羽ばたいて行け 

umarekaware tenshi-tachi e kusari o toke iitsutae o

yaburi sutete tobi tate iki toshi ikeru mono ni

nikushimi yori tsuyoi chikara sore wa ai no chikara to

shirashimete habataite ike

be born again into angels! Break the chains! Tear away and...

abandon the traditions! Fly away! Tell all living beings,

"There is a force stronger than hatred, and that is the power of love"

Make these words known, flap your wings, and go!

世界中の涙で 出来たこの地球

運命と呼ぶ未来は その手にあるから さあ

sekaijū no namida de dekita kono hoshi

sadame to yobu mirai wa sono te ni aru kara saa

With tears from all over the world, this Earth is made

The future you called fate is inside your hands, so...

生まれ変われ 堕天使たち 想い出して 目には見えぬ

羽根があった遠い日 遥かな淡い記憶

絶望より 強いものは たったひとつ 希望と

知るために君は生まれた

黎明のこの時代に

umarekaware datenshi-tachi omoidashite me ni wa mienu

hane ga atta tōi hi harukana awai kioku

zetsubō yori tsuyoi mono wa tatta hitotsu kibō to

shiru tame ni kimi wa umareta

reimei no kono jidai ni

be reborn, fallen angels; remember the bygone days

when you had your invisible wings, those faraway, faint memories

Only one thing is stronger than despair, and that is hope

For the sake of learning this, you were born...

into this era of daybreak